Newark crash fire death van hit parked lorry on A1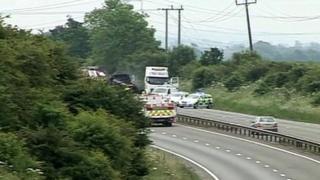 A van in a crash that killed two people and closed a major route through the East Midlands hit the rear of a parked lorry, police have said.
Police said there was an "intense" fire in the van, which was carrying gas cylinders, and both occupants died.
The accident happened on the A1 at Claypole, south of Newark, on the border of Lincolnshire and Nottinghamshire, on Wednesday.
The 60-year-old driver of the lorry was unhurt.
Det Sgt James Greeley said: "For reasons not yet known the van has collided with the rear of the parked heavy goods vehicle.
"It appears at this early stage from evidence at the scene that the van burst into flames and there has been quite an intense fire and sadly both occupants of the van have perished."
The road has since reopened. However, motorists faced long delays and diversions for much of the day.