Newark house blast: Victim identified by DNA analysis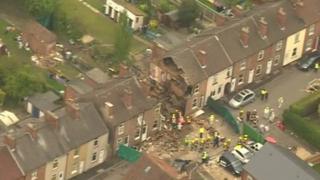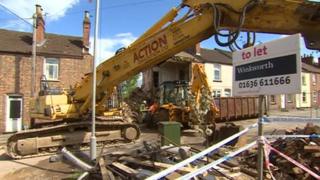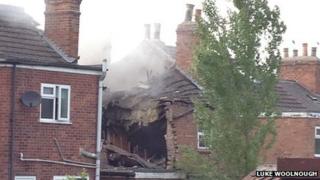 A woman killed in an explosion at her Newark home had to be identified by DNA analysis, an inquest has heard.
Jeanette Rourke, 40, and her father-in-law, Leslie Rourke, 71, both died after the blast demolished the terraced house in Wright Street, Nottinghamshire.
Her husband, Nicholas Rourke was taken to hospital for treatment after the blast on 19 May.
An inquest was opened on Monday, but adjourned while police continue to investigate the cause of the explosion.
The inquest, headed by Coroner Maureen Casey in Nottingham, was told Mrs Rourke had to be identified by DNA samples taken from her daughter and mother.
'Significant damage'
Post mortem examinations of her body have yet to identify how she died. Her father-in-law died as a result of smoke inhalation.
The explosion was reported to emergency services at about 17:00 GMT, with witnesses describing it as sounding like a bomb.
It "virtually demolished" the home and caused "significant damage" to neighbouring houses, the inquest was told.
Mrs Rourke and her husband were in the property at the time of the blast along with Mr Rourke senior, who lived in Tuxford, Nottinghamshire.
A controlled demolition of the terraced house was carried out the following day to recover Mrs Rourke's body.
Police investigations into the cause of the explosion are ongoing. Officers have previously confirmed it was not caused by the gas mains.
Neighbours in surrounding streets were evacuated from their homes following the blast.
A four-month-old baby girl, a seven-year-old boy and a woman were rescued from the neighbouring house by passers-by.
Neighbour Jim Massey and his parrots are living in a shed after his home was declared structurally unsound because of the explosion.