Nottinghamshire town honours a war hero who saved 4,000 lives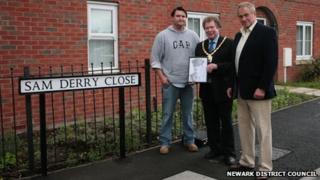 A decorated war hero who saved the lives of thousands of men in daring Second World War rescue has been honoured by his home town.
Lt Col Sam Derry, who would have been 100 next year, smuggled 4,000 Allied soldiers out of Rome under the Nazi's noses.
He is Newark's most decorated solider and now has a street named after him.
And a campaign by the Newark Advertiser is underway to build a memorial in the Nottinghamshire town.
In 1943 he was smuggled into Rome in a cart full of potatoes where he met Father Hugh O'Flaherty, a priest in the Vatican.
He ran a network of safe houses around the city which were used to hide Jews and British prisoners of war.
Between them they ran the Rome Escape Line, helping thousands of people evade the occupying Nazis.
Col Derry later penned a book of the same name and in the 1980s it was turned into a film starring Gregory Peck as the priest.
But he was a modest man and, apart from an appearance on This Is Your Life in the the 1960s, he spoke little of the episode.
Now Sam Derry Close in Newark has been named in his honour and the council provided signs while a campaign to honour him in some way is growing.
His son James said: "He wouldn't have liked all this attention - he was quite a modest man.
"He thought he did what anyone would have done but I think he probably did more than most.
"It is remarkable really what he did - bringing 4,000 men back to Britain via various safe houses. He didn't even speak Italian.
"We are very proud of what he achieved."
James' brother William said: "Perhaps the most poignant aspect to what he achieved is when you consider the number of people who would otherwise have been either executed or sent to Nazi concentration camps.
"They were able to go on to have children themselves and who also had children of their own. None of these people would have existed."
Newark and Sherwood District Council Chairman Dennis Jones said: "Sam Derry's record speaks for itself. He was a courageous man who helped to save thousands of servicemen.
"He is Newark's most senior decorated war hero and while he was offered a lot of recognition during his lifetime he shied away from the limelight. He was a modest hero, who thought clearly and quickly on his feet."