Parish council apology over toppled Nuthall gravestones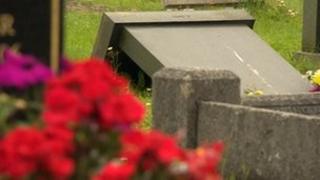 A parish council has apologised after dozens of gravestones were toppled without consultation.
More than 50 headstones were left face down at Nuthall Cemetery in Nottinghamshire in early July because of health and safety concerns.
Nuthall Parish Council issued "an unreserved apology" for any distress caused to relatives.
The council has formed a working party to look at ways of dealing with complaints.
No warning
Relatives face costs of about £170 to restore a gravestone to an upright position.
Parish council vice chairman Philip Owen said the working party will look at "all options", but added the council was "limited to what we can spend".
"We want to undo the hurt - we want to restore the cemetery to what it was beforehand - a place where people can go and mourn lost relatives."
Nuthall resident Chris Robinson, who has joined the working party, said her mother's gravestone was pushed over without her knowledge.
"The expense is not the problem here - if someone had approached us we would have got it fixed - the problem is that the families were not given the opportunity to put it right."
Ministry of Justice guidelines call for any gravestones that are considered dangerous to be cordoned off and the relatives informed, she said.
Mr Owen said the decision to topple the stones was taken by the parish council chairman who did not consult the rest of the council.
Chairman Derek Burnett was not available for comment.