Sex abuse victims encouraged to come forward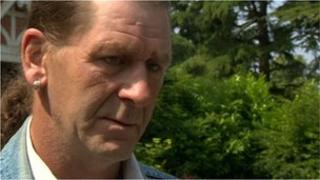 A man who claims he was sexually assaulted at former council-run children's homes in Nottinghamshire and Derbyshire has encouraged more victims to come forward.
It follows more than 50 allegations of historical physical or sexual abuse at Beechwood Children's Home, Mapperley.
James Cleverley, 52, from Netherfield, said he was forced to perform sex acts on staff, from the age of 10.
The council said appropriate action had been taken over the allegations.
The statement from Nottingham County Council and Nottingham City Council added that there were no outstanding safeguarding concerns.
Detectives are investigating claims by others at four other children's homes.
'Sensitive investigation'
The homes, which have all since closed, were Bracken House in Thames Street, Bulwell; Ranskill Gardens, in Bestwood; Wood Nook, in Beechdale Road, Beechdale, and Risley Hall, Derbyshire.
Mr Cleverley said he was sexually abused by staff in four of them.
"I feel like I've been let down by the system," he said.
"For someone to abuse me like that, it came to a stage where I felt it was natural."
"I hope something comes out of it [the investigation] where we can get peace of mind. I want to get it all sorted out so I can start my life again."
In 2011, six people said they had been abused at the former Nottinghamshire County Council-run Beechwood Children's Home, in Mapperley.
Since then, 56 people have come forward with allegations of abuse dating back 30 years, police said.
The two local authorities said in their statement: "A full and robust investigation is being undertaken into these allegations, led by the police, involving relevant agencies.
"However, we would like to reassure the public that at all points in the inquiry our biggest priority has been to ensure that there are no outstanding safeguarding concerns."
Det Insp Yvonne Dales, who is heading the investigations, said: "This is a thorough but complicated and sensitive investigation and the allegations are historic, in some cases relating to events which are said to have taken place nearly 30 years ago."
She said her team was working hard on the case but they were facing forensic and corroborative challenges.
Some of the alleged perpetrators have also since died.
Nottinghamshire Police said 12 people had been questioned about the claims but no charges had been brought.