Queen's Medical Centre closes children's cancer ward after infection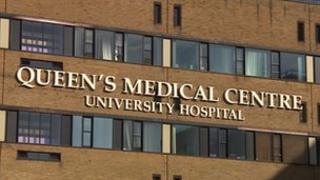 A children's cancer ward in Nottingham was closed after a fungal infection was detected in the ventilation system.
Nine children were moved from the ward at the Queen's Medical Centre after the discovery was made.
Staff at the hospital said it was as a precaution because the youngsters have weakened immune systems and that it poses no risk to staff or visitors
Health chiefs said the ward will reopen after a "deep clean" and tests prove it is safe to do so.
'No cause for concern'
A spokeswoman for Nottingham University Hospitals NHS Trust, which was recently one of six marked as being high risk for patient care, said information is being shared with parents.
"We can confirm that Ward E39 at QMC has closed as a precautionary measure after recent environmental sampling identified a potential infection risk for patients with low immunity levels," she said.
"There is no cause for concern for any other patients or relatives and we are keeping parents informed.
"We are exploring the source of the infection and will share this information with parents as soon as this is identified. We will reopen the ward when we have confirmation there is no risk to patients."