Kimberley sports village developers to rethink plans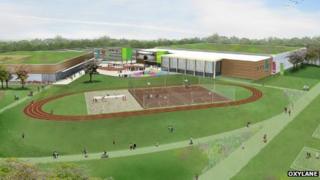 Plans for a £15m sports village in Nottinghamshire could still go ahead despite its application being rejected, say developers.
Oxylane, the firm behind the proposed 50-acre leisure facility, wants to build on greenbelt land in Kimberley.
Its plans were turned down by Broxtowe Borough Council at a meeting last week.
UK Oxylane Village director Luke Fillingham says the firm's "aspirations remain unaltered" and it will "look at other solutions".
The development, which Oxylane said would have been one of the first for the UK, is based on an existing model used in France.
It would have included a range of free activities and a sports superstore, operated by Oxylane's sister group, Decathlon.
However it was refused permission by councillors because they had concerns about the greenbelt and benefits of the development.
Objection letters were sent in by residents and concerns were raised by Nottingham City Council, Nottinghamshire County Council and the Campaign to Protect Rural England.
Mr Fillingham said: "We will assess the options and intend on finding a solution because our ultimate intention is creating a fantastic sports village for Broxtowe. Our aspirations remain unaltered.
"We still believe it will work. We know the benefits it will bring - jobs, sports opportunities and investment.
"At a national level this is a scheme that is very important."
It is understood Oxylane has since withdrawn the application ahead of a formal notification of the council's decision being issued. This means the decision is now left in limbo.
Councillor Steve Barber, chairman of the council's development control committee said councillors had only just become aware of this legal loophole.
He added: "The land is attractive for developers because it is next to the M1 but we are precious about our green belt. We are anxious to conserve the green barrier between the city and the rest of Broxtowe.
"I just don't think the plan was an acceptable proposition, especially when we have a perfectly good sporting facility in the National Water Sports Centre, which is underused and could do with a bit of development."