Attenbrough Nature Reserve paths 'scattered' with nails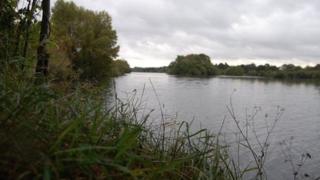 A warning has been issued at a Nottinghamshire wildlife park after small nails were found scattered along its paths.
The tacks were discovered embedded in a pushchair's tyres at Attenborough Nature Reserve.
In 2010, cyclists were thought to have been targeted with similar objects, prompting regular police patrols.
Erin McDaid, a spokesman for the reserve, said it was a "real problem" which they were determined to resolve.
Metal tacks were discovered three years ago after cyclists reported punctures along the paths.
Police believed they had been placed there deliberately.
'Ludicrous situation'
Incidents have been rare since warning signs were erected, according to reserve managers.
But following the latest discovery the trust has been forced to highlight the problem again.
Mr McDaid said: "This is a real problem that we are determined to resolve. Whoever has put these down [needs to] just think about what they're doing, it's a ludicrous situation."
It is thought saboteurs could be disgruntled by the way some cyclists travel through the area.
Mr McDaid said: "If you get a very small percentage of any of the site users, dog walkers, cyclists, not considering others then you get minor conflicts.
"We're trying to ensure cyclists come through the site but not travelling at speeds that threaten pedestrians or bird watchers.
"The last thing we need is somebody taking the law into their own hands and trying to resolve the problem in such a dangerous way."