Fifteen Nottinghamshire Police staff investigated for sexual crimes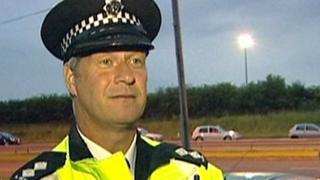 Fifteen officers and staff from Nottinghamshire Police are being investigated for sexual crimes against the public.
The force said they had been suspended or placed on restricted duties.
Available figures suggest Nottinghamshire has the third highest number of such investigations ongoing, behind the Greater Manchester and Metropolitan forces.
The force said it was not prepared to tolerate such behaviour.
'Totally unacceptable'
Deputy chief constable Sue Fish said the investigations had been sparked by the conviction of former inspector Russell Dew, who was sentenced to six years in jail for sexual offences against a 13-year-old girl in 2011.
She said: "This is an emerging phenomenon.
"It's one of the key national threats around corruption in policing and it is a national issue, not just a local one.
"Here in Nottinghamshire, we have been really clear we need to find out the scale of this problem and root it out.
"Our relationship with the public has to be one of trust. Not respecting the public and not respecting vulnerable women or girls is totally unacceptable."
She added she had been shocked by the figures.
"It absolutely horrifies me. I can't pretend otherwise," she said. "Obviously these matters are still under investigation but if they are founded, people will face the consequences."
The force has now issued an information film to highlight the problem, which is being circulated among other forces.
It features the former partner of a convicted officer talking about the shock of discovering what he had done.
Ms Fish said the force had invested in software to audit potential inappropriate mobile phone and email contact between officers, staff and members of the public.
She appealed for anyone who believed they may be a victim of abuse to contact the police.
"The vast majority of my officers and staff do an amazing job," she said. "We have 4,000 officers and staff, so 15 isn't a lot, but it's still too many."