Former Mansfield General Hospital set to be demolished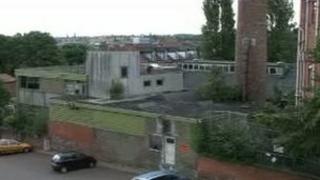 A former Nottinghamshire hospital that has been described as an eyesore by residents is set to be demolished.
Mansfield District Council, which bought back the General Hospital site off West Hill Drive in June, said people had waited decades for action.
Demolition work will now start in November and could take six months.
Town Mayor Tony Eggington said the project would cost £940,000 which was considerably more than anticipated due to the amount of asbestos on the site.
'More contamination'
"During my 11 years it has been a bugbear for me and also for the residents that have had to look at it for 20 years," said Mayor Eggington.
"There are some historic issues there and some memories but it has been in such a state of disrepair there is little chance of retaining any of the site.
"There is a lot more asbestos decontamination than we had anticipated so that has resulted in additional demolition costs."
The hospital, which dates back to the 1900s, was sold by the council in 1994 to private owners.
They had submitted plans to build more than 200 apartments on the site as well as various housing schemes but nothing came to fruition.
CMEC Demolition from Nottingham has now been contracted to organise and manage the removal of asbestos as well as demolishing the property.
Mr Eggington said residents had been consulted on possible plans for the site but no decisions had been made.