Glen Kitchen death: Jadon Jackson, 16, jailed for manslaughter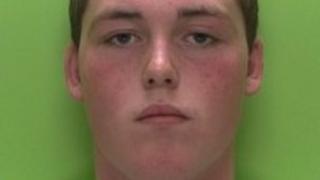 A teenager who killed a man with a single punch has been sentenced to six years in jail.
Jadon Jackson, 16, from Worksop, was convicted earlier this month of the manslaughter of Glen Kitchens.
During his trial, Nottingham Crown Court heard Jackson hit the 40-year-old once, causing him to fall backwards and strike his head on a stone pillar.
Det Insp Rob McKinnell said the sentence was a "sharp reminder" of why people should think before they act.
Mr Kitchens, a former postman from Worksop, Nottinghamshire, was attacked by Jackson as he walked home after he had been out with friends on 6 April.
A post-mortem examination showed he died from head trauma.
'Never understand why'
Following the sentencing, Mr Kitchen's family said he had been "very caring" and a "friendly, outgoing person with a good outlook on life".
They said he had a good circle of friends in the town and added that "quite simply, he was one of the good guys".
"He didn't deserve this and his family will never understand why it happened."
Jackson was told he must serve a minimum of three years before he would be eligible for parole.
Mr McKinnell said that "people should consider their actions before they get into any kind of altercation".
"The consequences can be devastating and it only takes one punch, as we have seen with the death of Mr Kitchens," he said.