Taxi share rapist Mosan Ahmed jailed for Nottingham attack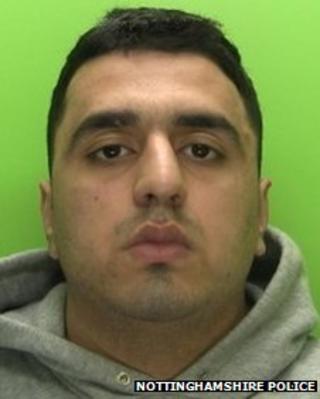 A man who attacked and raped a woman in her home after asking to share a taxi with her from a nightclub in Nottingham has been jailed.
Mosan Ahmed, 22, from Forest Fields in Nottingham, was sentenced to nine years in prison at Nottingham Crown Court.
Ahmed followed the mother of two into her home after she returned from her house with a cigarette in October 2012.
He was given a sentence of five years supervision as he was deemed to pose a danger to the public if released.
The 22-year-old raped the woman after punching her in the face and threatening to kill her if she did not do as he wanted.
Once Ahmed had left she ran to a friend's house and called the police.
'Worst times of my life'
She believes that drinking to excess that night contributed to her missing any signal that her attacker would strike.
"I want to say to any women who are going out drinking, just don't drink to the point that you are unaware of what is happening around you," she said.
"I know a lot of people do it and I've got friends who will say 'I can't remember anything about last night' and they think that's the sign that they've had a good time.
"But things can happen and you don't realise that you are in danger. There are people out there who are waiting to prey on someone who is vulnerable and that is what happened to me."
She added that since the attack "I suffer from anxiety and at night when I'm falling asleep I'm waking up with a start as if something has happened".
"Going to court was not a pleasant experience and being cross-examined by the defence solicitor was one of the worst times of my life because I had to relive the whole thing," she said.
Det Con Rob Smith, who led the investigation, said: "This was a very traumatic experience for the victim who showed a great deal of courage in pursuing it through the court process.
"The sentence handed down reflects just what a dangerous individual Ahmed has shown himself to be."