Nottingham marks 200 years since its first balloon flight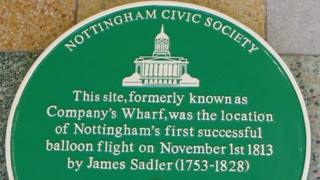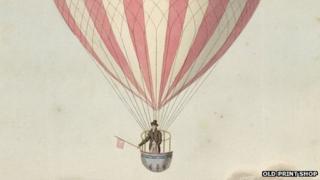 A plaque has been unveiled to celebrate the 200th anniversary of Nottingham's first successful balloon flight.
It will be placed on the front door of the Fellows, Morton and Clayton pub on Canal Street which is thought to stand on the site of the launch in 1813.
Watched by thousands of people, James Sadler flew 30 miles in an hour.
Balloon enthusiast Robin Macey said after two previous failed attempts in the East Midlands, Mr Sadler's flight was an "incredible event" for the city.
Sadler's silk red and while balloon took off from an open piece of land next to the canal called Company's Wharf.
The name is no longer used today but Mr Macey from the Nottingham and Derby Hot Air Balloon Club has spent months researching the exact spot.
"I have been studying local balloon history for over 20 years and earlier this year I identified exactly where Company's Wharf was," he said.
"I looked through some old Ordnance Survey maps from the 1880s and I was able to identify exactly where it was. We realised straightaway it was on a space of land that's now occupied by the pub.
"People travelled a great distance to watch the flight. They came from as far afield as Newark, Mansfield, Derby and Leicester. Every single possible vantage point was taken.
"It was quite an incredible event."
Hilary Silvester, chair of the Nottingham Civic Society, added: "We like people to understand and appreciate their history. And we like to have celebrations for this sort of thing just to remind people of what Nottingham was like and what people have done in the past."