Two men jailed over Gedling pizza shop death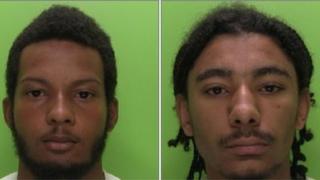 Two men have been jailed for killing a man at a pizza shop in Nottinghamshire.
Joshua Strumskyte, 22, was stabbed in the Mr Pizza take-away, in Wollaton Avenue, Gedling, in June, and later died in hospital.
Sallome Pinnock, 18, from St Ann's, was given life for murder and will serve a minimum of 16 years. Lewis Anderson, 20, also from St Ann's, received seven years for manslaughter.
Mr Strumskyte's family said the pair had "destroyed" their lives.
In a statement, the family said: "Josh was the sweetest guy you could ever meet. He had a heart of gold.
"The love he had to give everybody was immense. Every time he left the house he would say to our mum, 'I love you with all my heart'. These are words we long to hear again from Josh again, but that will never happen.
"Josh had so much more to give and that has all been snatched away from him and us."
'Frightening and violent'
The family added: "I cannot bear to look at Pinnock and Anderson. What they have done has destroyed our family. They have taken away a life.
"The devastation they have caused is enormous. Words cannot describe any of it. It's unimaginable, the pain, the hurt, the loss, the images, the flashbacks.
"I wonder for a second if they knew what they had actually done or whether they just worried about what was going to happen to them.
"I wish they could have been in that room with my brother at the funeral directors to see his mum screaming for Josh to come back."
Det Ch Insp Rob Griffin, who led the investigation, said: "This was a frightening and violent attack in which the many witnesses, to this day, are still trying to process what they saw that fateful evening.
"A young man is dead and two others are now facing a very long time in jail, and all because Pinnock made some really bad decisions that night.
"He decided to take a knife out with him and he decided to attack Josh with it, a young man who was an innocent stranger to him."