Nottingham students need 'dedicated' housing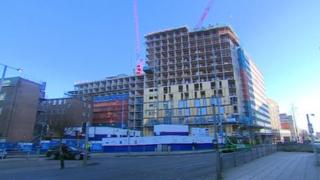 More purpose-built accommodation is needed in Nottingham to help cut the number of students in residential areas, the city council has said.
About 3,000 more bed spaces are being created in the next two years but half of the 43,000 students in the city are living in privately rented housing.
Deputy leader Graham Chapman said the council received "constant complaints" from residents.
He said: "It's something that is causing enormous pressure."
Areas with large student populations include Dunkirk, Lenton and Forest Fields.
'Modern designs'
Mr Chapman said he did not want to penalise private landlords but the council did not plan for an "explosion" in student numbers in residential areas.
Robert Monk, chairman of Mortar Developments, said they were being encouraged by the council to increase dedicated accommodation.
The latest construction is a £30m, 14-storey complex in Maid Marian Way for 450 foreign students at Nottingham Trent University which is due to open in September next year.
Mr Monk said it was all part of students' changing tastes.
"They always wanted to get out of the institutional halls of residents which were traditionally run by the universities and go out into the private housing market," he added.
"But now they much prefer to come into purpose-built, modern designed, economic accommodation."