Tinsley Lindley: Money raised to mark Nottingham sportsman's grave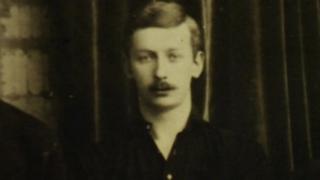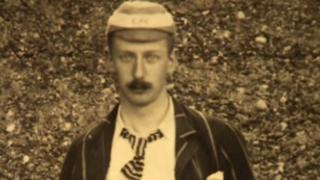 A gravestone is to finally be erected for a top footballer who played for England in the 1880s.
Tinsley Lindley was the youngest ever player at Nottingham Forest when he joined the team, aged 16, in 1882 and scored a hat-trick on his debut.
He died in 1940 and is buried in an unmarked grave in Wilford Hill cemetery near Nottingham.
Since October campaigner Ron Clarke has been fundraising to get a permanent headstone for Mr Lindley.
'Like George Best'
Mr Clarke says he cannot explain why a gravestone was never placed on the grave before but he thought it was time it got one.
He said: "When I decided to do this it was before the Brian Clough statue was put up in the middle of Nottingham and I thought if he deserves a statue then Tinsley deserves something too.
"A lot of people hadn't heard of him until I started this campaign but he was a fantastic centre-forward. I think he was the George Best of his day."
He added: "He did a fantastic amount of work for Forest and Nottingham as a barrister."
Mr Lindley, from Basford, scored 85 goals for Forest in one season.
Mr Clarke said Mr Lindley refused to wear ordinary football boots and preferred to wear walking shoes because he could run faster in them.
As well as a footballer he was also a rower and played rugby and cricket, but never turned professional.
He worked as a barrister full-time and died on 31 March 1940, aged 74.
More than £3,500 has been raised so far for the headstone which will be erected next year on the 74th anniversary of his death.
"When people see it I hope they will enjoy it," added Mr Clarke.
"I have been overwhelmed with the donations. It has really surprised me."
Money was raised through raffles, auctions and a book written by Mr Clarke.