Nottingham hospitals parking charges rise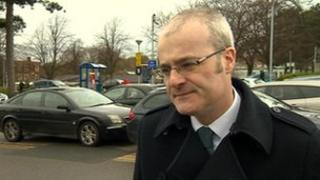 The cost of parking at two Nottingham hospitals has risen from £3.10 for two hours to £4.
Patient groups say the rise at City Hospital and Queen's Medical Centre will hit those on low incomes and people too ill to use public transport.
Nottingham University Hospitals Trust defended the move saying it had to save £150m over the next three years.
Trust director Daniel Mortimer said it was not a decision they had "come to lightly".
He said the income was used to fund maintenance, security, and lighting costs at the car parks.
"They are big increases. I accept that," added Mr Mortimer.
"But many of our other costs are going up and we have to make sure we can cover those, without taking money away from patient care.
"It is not something we are proud of, and it is always a controversial and difficult step, but it enables us to fund the car park and free bus service.
We think those things are worth funding and making available to people."
A free 'Medilink' bus service is offered by the Trust which runs every 10 minutes between the city's park and rides and hospitals.
Chairman of patient group, Healthwatch Nottinghamshire, Joe Pidgeon said: "This rise for a two hour band is very high.
"It will particularly hit relatives of sick patients on low incomes who are going to be distressed by this hike in car parking rates.
"In parts of Scotland and Wales there are either a limit on the costs of parking, or no costs at all, and this is for an NHS system for the whole UK.
"There is something going slightly wrong when in different parts of the UK, different policies are being followed."