JG Pears plans for faeces-powered biomass generator opposed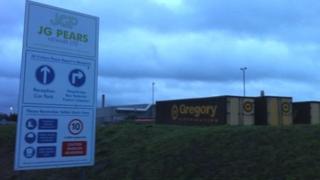 A proposed biomass generator powered by chicken faeces and ground animal bones is causing complaints.
A planning inquiry is currently considering JG Pears' plans to expand its animal fat rendering plant with a power station at Low Marnham, near Newark.
Neighbours said the smell from the factory is already "stomach wrenching" and fear it would get worse.
But the company said it would reduce noise and smell.
JG Pears' plans for a combined heat and power plant were thrown out by Bassetlaw District Council last year but the company took the decision to appeal and an inquiry is due to make a decision next week.
'Rotting carcasses'
The company, which supplies the pet food industry, wants to generate its own electricity and feed into the National Grid.
Shona Stapleton, from the Pears Action Group, said: "We can't enjoy our gardens on summer evenings because of these large lorries full of animal waste passing our doors. It's stomach wrenching."
And Colin Fishwick described the smell from the plant as like "vomit" and "rotting carcasses".
The firm said it was refused permission by the council because of the scale, mass and height of the development and not because of smell.
In a statement the operations director Alistair Collins said: "The scheme will offer many improvements including improved odour and noise abatement from the existing activities on-site, will significantly reduce the carbon footprint of the operation and generate electricity for the grid."