Concern over new 'less family-friendly' Rushcliffe Arena pool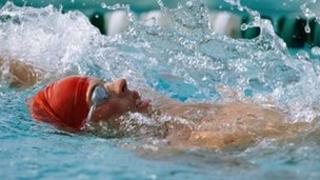 Campaigners are concerned a popular Nottinghamshire swimming pool will not be replaced with a family-friendly facility under redevelopment plans.
Rushcliffe Leisure Centre, which has a mixed facility pool, is due to close and be replaced with another nearby.
It is believed the preferred design for the new pool at Rushcliffe Arena, in West Bridgford, will include lanes for competitive swimming.
Rushcliffe Borough Council said no final design had been chosen.
One campaigner, Juliet Woodin, whose grandchildren use the current pool, said: "We feel we are losing an excellent facility.
"The new pool that they are going to provide is going to be quite different.
"It's going to be a traditional rectangular lanes swimming pool with a small training pool alongside it.
"We know that it won't cater adequately for children, babies and families."
But Councillor Eddie Fearon said: "There are a lot of swimmers, other swimmers not just leisure swimmers and what we will try and do is give people the best of both worlds and to try and suit everybody."