Flooded Southwell homes may 'have been saved' with dyke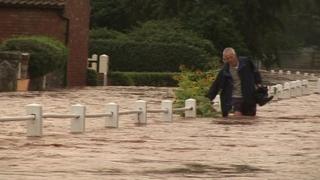 A Nottinghamshire town could have avoided flooding last summer if a dyke had been built six years ago, a local councillor has claimed.
About 100 properties in Southwell were affected when three inches (7.62 cm) of rain fell in two hours on 27 July.
A county council report aimed at preventing further flooding in the town is expected to be complete by June.
Councillor Bruce Laughton said if previous reports had been acted on further floods would have been avoided.
'Absolutely soaked'
The Conservative councillor for Southwell and Caunton, who also serves as chairman of the town's flooding forum, said: "Southwell has been flooding for many years.
"Ideas in reports in 1996 and 2007 were not implemented so it is important we hold the authorities to account this time and that money is made available."
He said the 2007 report suggested a dyke was built to protect the town, but he added that developers and Severn Trent Water chose a cheaper option instead.
"A whole half of a town could have been saved if that [dyke] had been built," he added.
Southwell resident Rob Jordan is still waiting to move back into his home after it flooded in July.
He said: "There was torrential rain like I had never seen before and when I looked outside I realised we were in trouble.
"Everything was absolutely soaked. Everything was wrecked."
Nottinghamshire County Council said the volume and complexity of information has delayed its Flood Mitigation Plan.
However, Severn Trent Water has said exploratory work will be undertaken in Southwell before sewers in Halloughton Road are upgraded in the summer.
The company said this work would "help to protect residents from future problems".