CCTV to tackle illegal taxi parking in Nottingham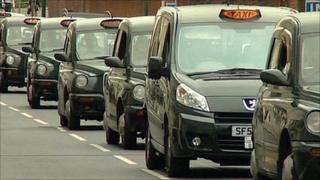 Nottingham City Council has said it plans to upgrade its CCTV to tackle taxi drivers who park illegally near the train station.
The authority said it has had complaints about Hackney cab drivers parking on double yellow lines in Station Street, outside of ranks.
The Nottingham Licensed Taxi Owners and Drivers Association said there was not enough space for them to park.
They said taxis needed to be at the station as it provides a lot of work.
Des Storey, the council's team leader in parking enforcement, said: "This is an ongoing issue with Station Street, we have to have an officer on here all day, every day and that's taking the officer away from their core duties.
'No other option'
"We have traffic watch cameras anyway so it makes sense that the camera can also be an enforcement camera should we have any problems with over-ranking."
Jamil Ahmed, the chair of the Nottingham Licensed Taxi Owners and Drivers Association, defended the actions of the drivers.
He said the new ranks installed as part of a major refurbishment at the station were too small.
He said: "We don't have adequate space on the taxi rank and 95% of work comes from the station, we don't have any other option.
"The simplest answer is that if the taxi ranks were large enough to cater for the work on Station Street then there wouldn't be any issue at all."
It is not the first time the city council and Hackney cab drivers have clashed.
In 2011, the authority brought in fines because drivers were causing congestion and other problems by blocking bus stops and spilling over from ranks into pay and display bays