Torvill and Dean Bolero statue plans unveiled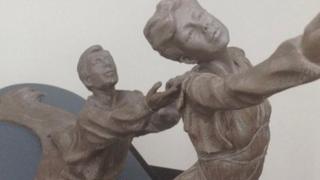 Plans for a statue of ice dancers Jayne Torvill and Christopher Dean have been unveiled 30 years after the pair took Olympic gold in Sarajevo.
The pair, who are both from Nottingham, won gold in the 1984 Winter Olympics with their famous performance to Ravel's Bolero.
Sculptor Carl Payne, who has produced a scale model of the work, said the time was right to celebrate them.
When complete, the life-size work will be placed at Nottingham's Ice Centre.
The Staffordshire-based sculptor said he is set to begin work on the full-size piece but is yet to secure any of the £80,000 needed.
Six appeal
Mr Payne said: "We see so many public art pieces popping up overnight with no consensus from the public - nobody has asked for them and nobody likes them.
"I'm a sculptor who documents moments in history - so it tells a story and people feel part of it, I create a small working model - then I put it out there."
The artist said he was going to "crack on regardless", but was confident people would get involved and donate when the model goes on display at the ice centre.
The Olympic performance by Torvill and Dean made them the highest-scoring figure skaters of all time (for a single programme), receiving 12 perfect 6.0s and six 5.9s, which included artistic impression scores of 6.0 from every judge.