Detective Trevor Gray, cleared of rape, wants job back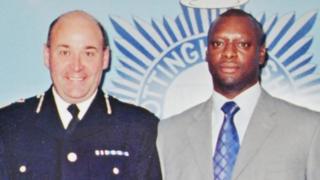 A former police detective cleared of rape following a retrial is trying to get his old job back.
Trevor Gray was dismissed from Nottinghamshire Police after being convicted of raping a woman while off duty.
But a second jury found him not guilty earlier this month, after his wife found fresh evidence.
A police spokesperson said the force would follow the legal process for Mr Gray's appeal against his dismissal.
Alison Gray, his wife, said: "I just did not believe that he was capable of such a horrible thing.
"I had been married to him for, at that time, 22 years."
Taxi driver's evidence
Mr Gray, 49, said: "Being convicted of something you haven't done, and everybody thinking of you as a monster, a rapist, how could I live with that?"
Mr Gray, from Watnall, was separated from his wife when he had sex with a 43-year-old woman at her home in the early hours of 24 July 2011.
He claimed the sex was consensual but the woman claimed she woke up to find Mr Gray raping her.
While Mr Gray was in prison, Mrs Gray traced a taxi driver who had picked him up from the woman's house after they had sex.
The taxi driver gave evidence at the second trial, telling jurors he saw the woman and Mr Gray kiss and embrace.
The jury unanimously found him not guilty.
A police spokesperson said: "Following a public complaint Trevor Gray was dismissed from the force under police discipline legislation.
"Mr Gray is appealing his dismissal, and as a matter of course the force will follow the legal process. As a result it would not be appropriate to comment further at this time."