Nottingham tram site skulls confirmed as human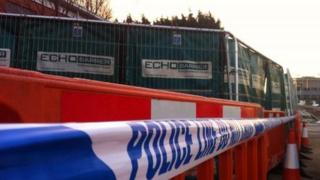 Two skulls, found with other bones by workers constructing a tram line in Nottingham, have been confirmed as human.
The discovery was made in Poplars Court, Lenton Lane, Dunkirk, on Tuesday evening.
Police said it was not yet known how old they are, but early indications suggested they were not recent. More tests are due to take place later.
A cordon will remain in place while further excavations are carried out.
'Skull appeared'
Worker James Higham, from Northampton, who made the discovery, said he was using a machine that sucked up dirt and debris when he saw the skull.
"We were digging away and a skull suddenly appeared in the ground," he said.
"Because there's an old priory around here we didn't think it was suspicious, we just thought it was from hundreds of years ago."
However, Mr Higham said he was shocked when the site's archaeologist later decided it was a "matter for the police".
Alan Cassidy Bishop, from Arnold, who has worked as an archaeological digger, said there should be no problem with work continuing if the remains were from the former priory's graveyard.
He added: "The only delay may come if they say 'hang on a minute we're not expecting remains here', so therefore it could possibly be a criminal matter."
It is unclear when construction work will resume at the site.