Attenborough Nature Reserve's sand martin hide nears completion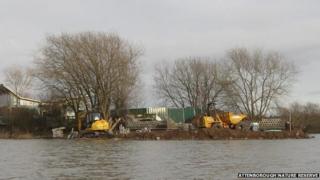 A hide and nesting bank for the sand martin bird - believed to be the first of its kind combined with an artificial bank - is nearing completion at a Nottinghamshire nature reserve.
The hide at Attenborough is made up of clay pipes and breeze blocks, allowing viewers a 3D view of the birds.
Cameras inside the 150 tunnels, where it is hoped the birds will nest, will transmit images into the hide.
The £56,000 project was paid for out of a £500,000 Heritage Lottery grant.
Tim Sexton, behind the project, said there are sand martin hides and artificial banks across the country but there is nowhere that combines the two.
"We will be able to access the back of the nest chambers as you would nest boxes in your garden and ring the chicks," he said.
"In the natural world you wouldn't have that opportunity."
Mr Sexton added that although sand martins are not in danger in the UK, increased extreme weather like this winter's, could start to flood out their nests.
The hide, which has been built by MPB Developments in Retford with some help from volunteers, is set to be finished on Friday March 14 - just in time for the birds' arrival in the UK after a 2,000-mile (3,218km) flight from sub-Saharan Africa.