Riley Hartin death: What is vasa praevia?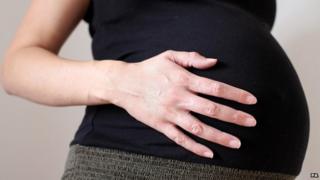 A usually lethal condition, which killed a newborn baby in Nottinghamshire, is completely preventable a charity has said.
Doctors at King's Mill Hospital told Riley Hartin's parents he was dead but, after he was handed back to them, they found he was breathing, an inquest has heard.
Riley died two days later in hospital in Leicester. A post mortem examination revealed the cause of death was vasa praevia - a rare condition that affects one in about 2,500 births in the UK.
The condition affects 555 babies a year in the UK. Charity Vasa Praevia Raising Awareness says that the survival rate is 100% if the condition is diagnosed during pregnancy.
But what is it and how does it occur?
Natalie and Daren Samat set up the charity after their son Henry died of the condition shortly after he was born in 2005.
"It was an avoidable tragedy. That was what was so hard for me - the fact that it could have been avoided was awful," said Mrs Samat.
It happens when the umbilical cord inserts into the surface membrane of the placenta and dangles across the cervix.
The umbilical blood vessels are then likely to tear when the baby drops into the pelvis shortly before birth, causing rapid blood loss.
This deprives the baby of oxygen, which often kills the child or causes brain damage.
Ultrasound scans during pregnancy can detect whether vasa praevia has taken place and the baby can be safely delivered by Caesarean section, Mrs Samat said.
'Not enough evidence'
She and husband Daren are pushing the NHS's National Screening Committee (NSC) to make a two-minute check of the placenta and umbilical cord a routine procedure at the 20-week ultrasound scan.
"It's something that takes seconds to diagnose," she said. "It should be routinely looked for in a pregnancy.
"They do it routinely in quite a lot of hospitals now, but not across the board."
But the NSC said it currently does not recommend routine screening for vasa praevia because there is "not enough evidence" that the current tests for the condition are "accurate enough".
There is no recognised way of treating the condition after diagnosis, a spokesman for the committee said.
But the Royal College of Obstetricians and Gynaecologists is currently producing guidance for midwives on the condition.
"It isn't that that committee [the NCS] doesn't think it's a serious issues. There is just insufficient information," a spokesman said.
Superintendent ultrasonographer Alexandra Drought has been screening expectant mothers for the last three to four years at the West Middlesex University Hospital and believes it should be rolled out nationwide.
"They [the NSC] don't believe the evidence is out there. But it isn't there because nobody is doing it and this is the problem," she said.
"How can you get evidence if you are saying we shouldn't be looking for it?"