Fatal bug surgeon John Lu wins disclosure case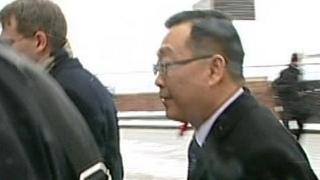 A surgeon who unwittingly spread a fatal infection cannot be forced to tell future patients about his clinical history, the High Court has ruled.
Five patients died after being treated by surgeon John Lu at Nottingham's Trent Cardiac Centre, in 2009.
As part of a process allowing him to return to work, NHS bosses insisted Mr Lu explain his part in the outbreak.
But, while Mr Justice Lewis backed most of that, he ruled the "enhanced patient consent" may be a breach of contract.
Nottingham University Hospitals NHS Trust began a major investigation after 11 people became infected with an antibiotic-resistant strain of bacteria.
'Exceptional circumstances'
In October 2009, Mr Lu was identified as the likely source and was withdrawn from surgery.
While the trust said it was keen for him to return to work, it put a series of conditions on Mr Lu.
Although he accepted some sort of re-entry scheme was necessary, Mr Lu labelled some of the demands as "grossly unfair".
Trust bosses acknowledged he now posed no greater risk of infection than any other surgeon but told the court "exceptional circumstances" meant they had to work to rebuild public trust.
Giving his judgement, Mr Justice Lewis said: "There is in my judgment no breach of contract in connection with the issues of delay, the re-entry programme or the communication strategy.
"[But] it would, in my judgment, be a breach of contract to impose additional requirements on Mr Lu, when he ultimately returns to independent practice, to provide additional information to that which - in his clinical judgment - is required to obtain a patient's informed consent."
A claim by Mr Lu for damages was dismissed.
One of the patients who survived the infection, David Tyson, was not happy with the judgement.
"I think patients who go in for operations at any hospital should be aware of all the history and facts behind the surgeon," he said.
"But equally I think the hospital has a responsibility to inform future patients of their failures as well."