Taxi drivers angry over Gedling 'knowledge' test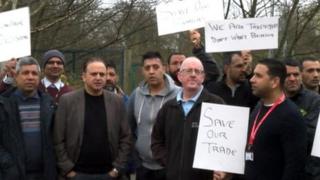 Taxi drivers have held a protest over a new test in part of Nottinghamshire they will be made to sit.
Gedling Borough Council wants to introduce the equivalent of London cabbies' "the knowledge" for anyone renewing their licence or applying for the first time.
It said it hoped it would "improve our standards" and stop applications from outside the area.
Drivers say the £35 test should not apply to existing licence holders.
Taxi drivers held a protest earlier outside the borough council building against the move, which comes into force in May.
Driver Ray Varley said: "Gedling borough are now bringing in the test which we are not complaining about.
"But why should old drivers who have been working years and years have to do such a test?
"By all means let new drivers coming in do the test... but us drivers who have been doing the job long enough shouldn't have to do it."
Maths test
Taxi drivers need to apply for a licence from a council to legally trade, but they can live and work outside the area.
Gedling Borough Council claimed it had previously received 300 applications from Derbyshire, 85 from Sheffield, 70 from Birmingham and others including from Luton and Portsmouth.
Marje Paling, who chairs the environment and licensing committee at the borough council, said she thought taxi drivers from outside the area were obtaining their licence from Gedling because the authority did not currently have a knowledge test.
She said this was making it "difficult to enforce standards" and the topography test, which would cost £35, would help to improve the situation.
"A small part of the knowledge test is about Gedling and the topography of Gedling, but the majority is about licensing standards and maths, such as how much change to give.
"We need to be sure that all drivers meet these standards not just new drivers, for the safety of all passengers using taxis licensed by Gedling Borough Council," Ms Paling said.
Taxi drivers would need 75% to pass the test and qualify for a trading licence.