Nottingham trams disrupted because of ice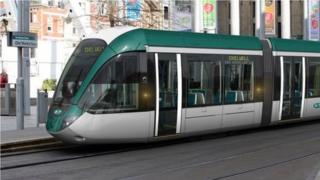 All early morning tram services in Nottinghamshire were cancelled because ice had built up on overhead lines.
Nottingham Express Transit (NET) said the trams could not run because the trams could not pick up power properly.
Trams were reintroduced just before 08:00 GMT but there were still delays to services.
Richard John Salter posted on BBC Radio Nottingham's Facebook page saying it was "unbelievable" for the service to fail due to the "first proper frost".
Peter Miles said: "So like the too many leaves on railway lines, our wonderful trams cannot operate in the winter when the temperature drops to freezing?"
'Severe icing'
NET apologised for the disruption and inconvenience.
Customer services manager Jo Bentley said: "The problems were caused by severe icing on the overhead lines.
"It only becomes an issue in the most extreme conditions when the trams can only intermittently pick up power and therefore cannot run."
NET said it sent out "special equipment" at 04:00 GMT but even this struggled to clear the ice.