Ruddington village sad faces to tackle dog mess problem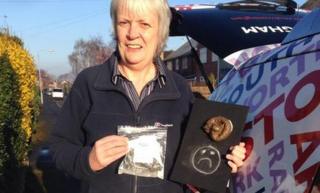 A council is handing out chalk and asking residents to draw sad faces on the pavement next to dog mess to encourage "irresponsible owners" to clean up.
Ruddington Parish Council in Nottinghamshire has created "Remove Unacceptable Dog Dirt" (RUDD) packs.
Parish councillor Barbara Breakwell said the council felt it had to "try anything" to tackle the problem.
The council said dog mess was a particular problem on school routes.
'Stop and think'
Ms Breakwell said: "In our village responsible dog owners are very annoyed that they get accused for being the culprits when it's not them but the minority of irresponsible dog owners.
"So maybe when that dog owner who doesn't clean up walks the same route and sees these sad faces they might stop and think."
"If we can only stop one - it's been a success, but we know it's a national problem," she said.
"I wish someone would come up with a definitive answer, perhaps the only answer is for someone to be prosecuted... If someone had a £1,000 fine it might stop."