Beckingham caravan body find prompts investigation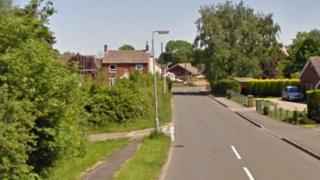 Police are investigating the "unexplained" death of a man whose body was found in a caravan in Nottinghamshire.
The body was discovered by a member of the public in a static caravan on a building site in Beckingham, near Gainsborough, on 13 March.
A post-mortem examination on Monday found the man had been dead for more than six weeks.
Police are appealing for anyone with information to contact them.
The man, who had no obvious signs of injury, is described as being about 5ft 8in tall, of medium build, with dark collar length hair. He was wearing a grey Slazenger T-shirt under a blue Umbro tracksuit top.
He is thought to be under 50 years of age.
Det Insp Ash Wilson said: "Following the pathologists findings we're treating this death as unexplained, but at this stage do not believe there was any foul play.
"We think this unknown man may have entered the caravan for shelter and subsequently died there."
He added that the man had no form of identification on him and did not fit any match of people reported missing.
Police have also circulated details with other forces and Interpol.