CCTV in Nottingham taxis pilot scheme approved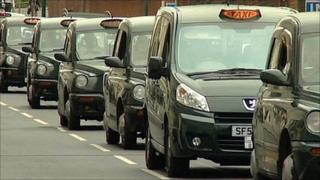 CCTV cameras will film inside up to 100 taxis in Nottingham as part of a year-long pilot scheme.
The city council has approved the plans, which are aimed at tackling crime.
The scheme will be paid for with more than £95,000 from Nottinghamshire's police and crime commissioner's budget and a £100 contribution from participating drivers.
Taxi drivers say it will keep both passengers and drivers safe.
'A good thing'
The pilot, which was requested by Nottingham Licensed Taxi Owners and Drivers Association is open to 100 of the 420 Hackney carriages licensed by Nottingham City Council, but the council expects only 10% of drivers to take it up.
Rehmat Khan from the association said: "It's good for the public, good for business and good for the driver."
A similar scheme in Southampton was made mandatory until it was halted by the Information Commissioner's Office (ICO) in 2012 , which said it breached the Data Protection Act because its cameras recorded sound at all times.
The scheme has since re-started with cameras' audio functions disabled, except in emergencies, to comply with the act.
A spokesman for PCC Paddy Tipping said the Nottingham scheme would not record sound.
The council will buy and fit the CCTV systems but taxi drivers will be responsible for maintenance at their own cost.
Drivers are also responsible for the data stored on the cameras' hard drives and must register with the ICO.
They are banned from downloading any of the content. They must also display signs telling passengers they are being filmed.