Fire at DH Lawrence family chapel in Eastwood was arson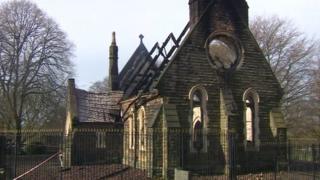 A fire which destroyed the chapel where DH Lawrence's family is buried was arson Nottinghamshire police have confirmed.
The building, in Eastwood Cemetery, Chewton Street, may have to be demolished following the blaze.
At its height the flames were so fierce, firefighters could not enter the building.
Police believe someone forced their way into the building at about 23:00 BST on Tuesday before the fire was started.
Insp Deborah Regan said: "It's near some gravestones which include DH Lawrence's family. The chapel is in such poor condition now it may well have to be demolished which will take that piece of history from the local area.
"We do get a lot of visitors in relation to DH Lawrence and it's quite devastating for the community to lose that chapel."
A gravestone in the accompanying cemetery commemorates DH Lawrence's parents, Arthur and Lydia Lawrence, and his older brother William.
The author is also included on the headstone but he was buried in Vence, France, on 4 March 1930.