Hucknall home attack reward offered by Crimestoppers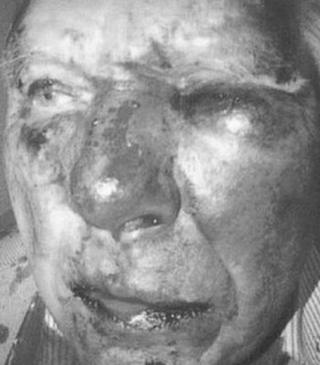 A reward of up to £5,000 has been offered after a 64-year-old man suffered "horrific" injuries during an attack in Nottinghamshire.
The man and his wife were beaten in their Hucknall home by three masked men who then left empty-handed.
Police, who released black and white images of the man's injuries, said they were "just too graphic" for colour.
Charity Crimestoppers is offering the reward for information leading to a conviction in the case.
'Made him pay'
Nottinghamshire Police said the men forced their way into the house, on Auckland Road, at about 20:30 GMT on 1 April.
The man's injuries include a broken nose and cheekbone, a fractured eye socket and fractured hand.
Gemma Wilson, of Crimestoppers, said; "Any information, no matter how small, could be vital in finding those responsible for this violent attack."
Det Insp Phil Sims said: "Someone out there knows who did this.
"He fought as best he could against the three intruders so they wouldn't harm his wife, but they made him pay for that bravery.
"This reward may offer an extra incentive to someone who has been unwilling or undecided about coming forward before now."
The couple, both aged in their 60s, were left battered and bruised, and traumatised by the ordeal.
The victim, whose name is not being released, said he would be installing CCTV at the house.