Nottinghamshire detective Trevor Gray, who was cleared of rape, is suspended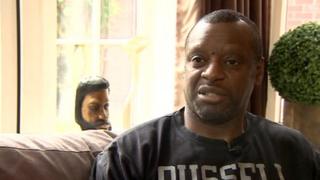 A detective sergeant, who was wrongly convicted of rape, has been suspended, after an order to reinstate him.
Trevor Gray was sacked from Nottinghamshire Police and jailed before clearing his name at a retrial.
Earlier this month, the Police Appeals Tribunal (PAT) ruled he could return to his job.
The force has said he has been suspended from duty pending the outcome of a gross misconduct hearing later this year.
Nottinghamshire Police sacked Trevor Gray in May 2012 after he was jailed for allegedly attacking a woman.
'Invalid process'
A force spokeswoman explained that, following his conviction, Mr Gray was "fast-tracked" to dismissal.
Police regulations mean that an internal disciplinary process must now take place, she said, which will culminate in the gross misconduct hearing at a date to be fixed later this year.
Phill Matthews, from the Nottinghamshire Police Federation, which represents officers, said: "We are providing him [Mr Gray] with legal assistance because we don't think it's fair.
"In our view the PAT was clear that he should be reinstated. They are choosing to put him back through a process that's invalid."
Mr Gray, who had 25 years experience, was acquitted following a retrial after his wife traced a vital witness.
Following the PAT ruling, he was invited to a meeting with Nottinghamshire Police which he believed would signal his return to the workforce - only to be informed that he was to face a suspension.
In a statement following his acquittal, Mr Gray, who served one year of his eight-year sentence, said he was "delighted" that his appeal against the dismissal had been upheld.