Eric Pickles' department wants Nottingham City Council apology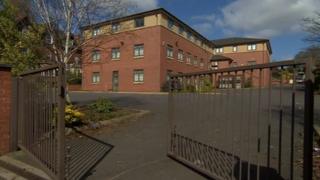 The Department for Communities and Local Government has asked for an apology over the way Nottingham City Council handled an enforcement notice.
The authority issued Eric Pickles' department with a notice to clean up Lancaster House on Sherwood Drive, which it thought belonged to the DCLG.
But the DCLG has since provided information to show a private landlord is responsible for the building.
Nottingham City Council said its priority was to sort out the site.
In a letter to the Labour-run authority, Baroness Stowell of Beeston, parliamentary under secretary of state, said: "DCLG has never occupied this property as such but the Secretary of State is the legal title holder for a large amount of the Civil Estate.
"I would suggest it would be gentlemanly for the council to offer an apology to the Secretary of State, given the unjustified and unfounded personal attack."
A Nottingham City Council spokesman said: "Our primary concern with Lancaster House is that it is a property where action is urgently needed to deal with a significant problem with rubbish and vermin, and it is this and nothing else which motivated us to tackle it.
"We have of course carried out all the necessary checks in the usual way and the Land Registry records from last month show the DCLG as current proprietors of the property.
"We contacted civil servants at the DCLG on a number of occasions and at no point did they inform us it was not their property. We therefore had no reason to believe the property was not theirs."
He added Friday was the first time the council had been provided with any information from the DLCG concerning ownership of Lancaster House and the private owners would be contacted.
A Section 215 enforcement notice gives the local authority the power to deal with property that is "detrimental to the amenities of the neighbourhood".