'Vigilantism' after sex attacks at Mansfield park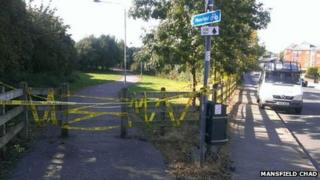 Members of the public intend to "stop and detain" suspected criminals at a park where two women have been seriously sexually assaulted.
A petition is also calling for CCTV and improved lighting at Racecourse Park in Mansfield, Nottinghamshire.
Mansfield District Council said it was already planning to install CCTV because of vandalism, and will improve lighting if police think it is needed.
But Councillor Mick Barton said he could not encourage vigilante action.
"I don't think that's a good idea at all," said Mr Barton, who is the council's portfolio holder for public protection.
"That's the police's job, and obviously our wardens work closely with police as well, it's a warden and police job."
'Poor safety'
He said lighting had already been improved following previous concerns, but the council will take further action to improve the safety of the park if police advise it.
The petition has been set up by the Mansfield Uncovered website.
It is in response to the sexual assault of a dog walker in September and the sexual assault of a teenager on Friday.
Peter Taylor from Mansfield Uncovered said: "We highlighted the park's poor safety when the previous sexual attack happened at the end of last year and warned that unless something was done, repeat attacks would happen."
He said there had been almost 3,000 submissions on the petition in 48 hours.
Stand up to 'scum'
"Just to clarify, we are not advocating or supporting any 'vigilante'-type movement but do actively encourage community awareness and diligence in relation to suspicious activity on that park," said Mr Taylor.
"It seems to be only a minority of people who want to detain anyone causing bother."
One resident said on Facebook that he "and a few of the blokes up here" would stop and detain "anyone causing trouble or following women taking the shortcut".
"It's time the community stood up to scum like this," the resident said.
Insp Neil Williams, from Nottinghamshire Police, said it was too early to say whether lighting was a factor in the attacks, and said CCTV cameras would not necessarily make the park safer.