Hucknall snooker club siege: Reece Theison jailed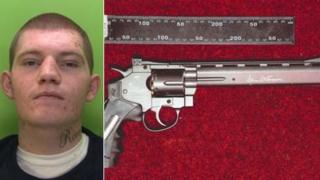 A man who carried a fake gun during a 10-hour snooker hall siege, terrifying staff, has been jailed for five years.
Reece Theison, 20, left two workers at Spot On snooker club in Hucknall, Nottinghamshire, with psychological scars as a result of his actions, Nottingham Crown Court heard.
The women hid in an office until they were guided to safety after six hours.
The court heard police eventually shot Theison in the abdomen with a baton round, bringing the siege to an end.
'I'm not the same'
Officers who were called to the club on 13 March by snooker club staff surrounded the venue and evacuated a school and homes.
On Friday, the court heard Theison had wanted police to kill him.
He told officers: "Why didn't you shoot me with a real gun?"
After the sentencing of Theison, who admitted possession of a firearm with intent to cause fear or violence, theft and criminal damage, snooker club worker Pat Lancaster spoke about the impact of his crimes.
The bar manager, one of the two women who hid in the club during the siege, said she had been diagnosed with post-traumatic stress.
"I am not the same person. I'm nervous and jumpy. He has robbed me of my happiness."
The second woman, Kerry Moran, said she was "on the edge all the time".
"The effect that night has had on my life is beyond anything I thought it would have," she said.
Det Insp Rich Monk said police had had to act on the assumption Theison's gun was not an imitation weapon.
He said: "Despite being afforded numerous opportunities to drop his weapon and put an end to the incident he refused, fully aware of the fear he was causing to an entire neighbourhood around him."