Malakai McKenzie murder case: Jamaica suspect reward offer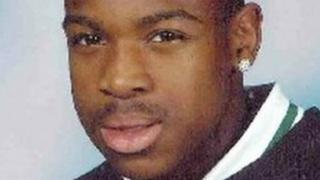 A reward is to be offered to catch a man suspected of involvement in a Nottingham gun murder.
In April 2012, Malakai McKenzie, 19, was shot outside a Sherwood pub - the culmination of a gang feud.
While the man who pulled the trigger has been jailed, Nottinghamshire Police have said they also want to question Lo-Andre Palmer, aged 20, from Aspley.
Detectives said Mr Palmer fled to Jamaica and are to offer a reward of 1 million Jamaican dollars (£5,280).
Mr Palmer, 20, was raised in the Aspley area of Nottingham but has family in the capital, Kingston.
Det Ch Insp Tony Heydon said: "The fact that Cameron Cashin was convicted of the shooting does not mean to say he didn't have a lot of support on the night in question.
"There would have been people acting as spotters, there would have been driving the cars.
"We know Lo-Andre Palmer was a very close friend of Cameron Cashin and while he certainly did not pull the trigger, you simply cannot help and support people who are taking guns onto the streets of Nottingham."
The reward represents more than half the average yearly Jamaican salary.
Gunman Cameron Cashin, 21, from Basford, was convicted of Mr McKenzie's murder in 2013 and is serving a life sentence, with a minimum term of 34 years.
Three other men charged with murder were found not guilty.