Mother and children search turns to Dublin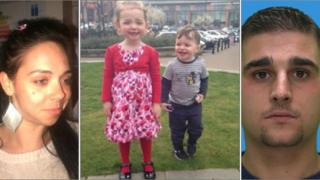 Police are continuing to search for a missing Nottinghamshire mother and her two young children after her partner was located.
Sidney Winson, 27, from Retford was found in Cannock in the West Midlands on Monday having returned from Ireland.
His partner Rosemarie Senior, 24, and her children Nora Lisa Ward, three, and James Dean Docherty, two, are believed to be in Dublin.
Police have been trying to locate the family since Friday.
The couple and the children were last seen in Chancery Lane in Retford at about noon on that day.
Police believe Ms Senior and the children could be in Dublin and are concerned for their welfare.
They are appealing for anyone with information to contact them.
Ms Senior was wearing jeans, a black T-shirt and a black cardigan.
James was wearing brown shoes, blue jeans, and a navy and terracotta long sleeved top.
Nora was wearing silver ankle trainers and blue jeans with white spots.
Her top was white with pink sleeves and features a rainbow and cloud and the word 'Cute'.