Nottingham cave find prompts volunteer appeal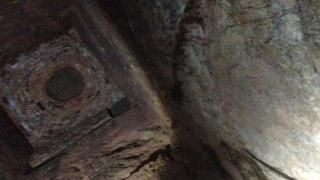 An archaeologist has appealed for volunteers to help locate man-made caves beneath Nottingham's streets following the discovery of a new cavern.
The sandstone cave found beneath a property in Alfreton Road is the city's 545th known cave structure, according to expert Dr David Strange-Walker.
He believes there are about 100 caves still waiting to be found.
The new chambers had been filled in but were recently dug out by the house's owner during renovation work.
'Crazy dig'
Ayaz Ahmed made the discovery while lifting some sandstone slabs in the basement of his seven-bedroom property.
"We started digging out the earth and it just kept going down and down and down," he said.
"It eventually opened up into a hole and we thought we were going into a mineshaft... it was a crazy, mad dig."
Once Mr Ahmed had cleared the sand and rubble, a cavernous structure lay before him.
It featured a small well and an eight metre (26 ft) high shaft, down which beer barrels could have been dropped.
Dr Strange-Walker, who has been surveying the city's caves for the past four years, said it was unique in terms of its location.
He said: "In some ways the prosaic part of my brain thinks it's pretty typical... but the scale is good, it's big.
"It's been done with some love, care and attention and it's way out of the normal range of a Nottingham cave, on the city's outskirts."
He added that there are still many caves to be found and has appealed for volunteers to contact him through his website to help look for more.