Dormice to be released in Nottinghamshire woodland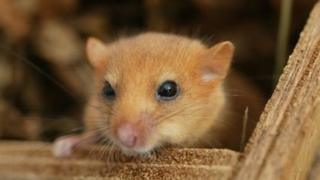 Captive-bred hazel dormice are set to be introduced to a woodland in Nottinghamshire as part of a continuing project to help the threatened mammal.
The People's Trust for Endangered Species (PTES) is set to release 43 dormice to an undisclosed location.
It follows a successful reintroduction of the rodents in a different wood in the county last year.
Dormice were once widespread throughout much of England but the species is now vulnerable to extinction.
The nocturnal animals, which live in deciduous woodland, hedgerows and dense scrub, have been hit by changes to woodland management and farming practices, loss of hedgerows and fragmentation of their woodland habitat.
Analysis from the National Dormouse Monitoring Programme, managed by PTES and co-funded by Natural England, suggests that although dormice are still in decline, the rate of decline may be slowing.
However, wildlife experts said reintroductions played an important part in conserving the species.
Ian White, dormouse officer at PTES, said: "We cannot undo overnight the changes that have contributed to the decline of dormice.
"But with time and careful management we can create sustainable areas of woodland and hedgerows so that dormice can re-establish themselves and thrive."
The woodland where the mammals are being released is managed by Nottinghamshire Wildlife Trust to ensure it has suitable food and shelter for the dormice, which feed on flowers, fruits, nuts and small insects.