Nottinghamshire's Robin Hood park deal ended by council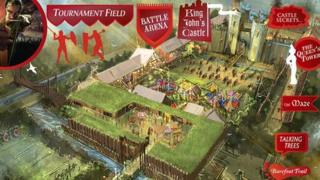 Plans for a £13m Robin Hood themed attraction have been thrown into doubt after problems with funding.
Nottinghamshire County Council signed a deal in 2012 with newly formed private company Discovery Attractions, with an opening date of spring 2014.
Now the authority has confirmed it has ended the partnership as investors had not been secured.
Discovery Attractions said it was disappointed but still believed its plans would happen.
The idea for a medieval-style castle with various entertainment zones was initially announced in 2012.
The new centre would be a short distance from the current Sherwood Forest visitor centre.
However, continued uncertainty about funding led the county council to issue a deadline of March 2014 to Discovery, to show it could fund the project.
Despite assurances, council officials said no detailed information had been provided and it was ending its partnership.
'Bitterly disappointed'
Derek Higton, service director at the county council, said: "We are absolutely committed to establishing a high quality visitor centre at Sherwood Forest and I'm sure that local people will be as disappointed with this turn of events as we are.
"We are excited about looking for a new partner and we intend to go back to the market later this summer to explore new ways of delivering a replacement visitor centre."
A spokesman for Discovery Attractions said the company was "bitterly disappointed" by the news.
He added: "We still passionately believe in the Discover Robin Hood concept.
"Our negotiations with the funder we introduced to (the council) in March are still ongoing and we believe our plans will come to fruition, albeit unfortunately not in partnership with (the council)."