Flooding grant criteria could be widened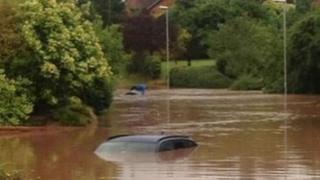 David Cameron has said he will look "very carefully" at whether grants can be given to parts of Nottinghamshire affected by flooding last year.
Up to £5,000 is being given to homes and businesses in England flooded between 1 December and 31 March.
Robert Jenrick, the new MP for Newark, asked the prime minister if parts of Nottinghamshire affected earlier in 2013 could also be given grants.
Mr Cameron said the Conservative MP had made "an important point".
Changing the criteria would mean that other parts of the country, in addition to Nottinghamshire, could be eligible for grants.
Speaking during Prime Minister's Questions, Mr Cameron said: "We're looking very hard at this as whether we can put back to the beginning of the 2013 financial year the eligibility criteria for that flood work.
"I'll look at it very carefully, I will talk with the Secretary of State for Local Government and Communities and see if we can resolve this issue for him."
Mr Jenrick told the prime minister that Southwell, in his constituency, had been flooded again last week.
The MP was elected this month, in a by-election triggered by the resignation of Patrick Mercer, who quit over a cash-for-questions scandal.
The prime minister visited the constituency ahead of the by-election, to help his party see off a challenge from UKIP, which finished second.