Mansfield Woodhouse crash deaths were drink and drug-fuelled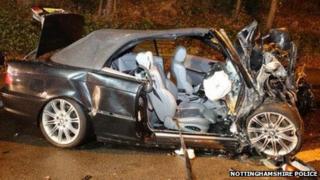 A woman high on drugs and alcohol who killed herself and two others in a crash five days before Christmas drove "like the devil", an inquest heard.
Teresa Mitchell hit motorcyclist Alan Dexter at 90mph, killing him instantly, near Mansfield, Nottinghamshire.
Passenger Ricky Goodall also died while two others in her BMW and a third driver suffered serious injuries.
A coroner concluded Ms Mitchell and Mr Goodall died in a collision, while Mr Dexter was killed unlawfully.
The hearing in Nottingham was told that Ms Mitchell, 38, held a party at her Mansfield house on 20 December at which drink and drugs were in plentiful supply.
After a phone call she suddenly became determined to drive to nearby Mansfield Woodhouse and set off with Mr Goodall, 24, Tay Milnes and Leigh Walters.
Close to the scene of the crash in Debdale Lane, she stopped at traffic lights, revving the engine, before setting off "like the devil".
Experts said the crash happened so quickly Mr Dexter, 47, from Pleasley Vale in Derbyshire, would not have known what happened.
The driver of a vehicle behind the motorcycle, Gary Topliss, did not have time to react and suffered life-altering injuries.
Post-mortem tests revealed Ms Mitchell was more than twice the legal alcohol limit and had recently taken amphetamines.
Giving her conclusions, coroner Mairin Casey said: "I find that there was no contribution by other road users to this event, save that they were simply in the wrong place at the wrong time."
At the end of the hearing, Mr Dexter's son Jonathan thanked those involved in the investigation.
"I have lost my dad, someone's lost their son, a grandson. My son now doesn't have a granddad.
"We are very upset, we've lost a very good man, a hard-working man, and a good friend."