John McGrath unlawfully killed by David Barnard, coroner rules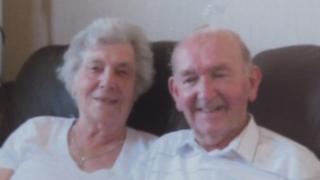 A mentally ill man would not have been free to kill his grandfather had police and mental health workers acted sooner, a coroner has concluded.
William Barnard should have been arrested in connection with an attempted armed robbery before stabbing John McGrath, the inquest heard.
Assistant coroner Heidi Connor recorded a conclusion of unlawful killing.
Nottinghamshire Police and the NHS have apologised to the family and said they had changed the way they worked.
Failings in an independent inquiry into the case were also identified.
'No crystal ball'
Barnard, now 34, inflicted 56 stab wounds on Mr McGrath, 81, and badly injured his grandmother Mabel McGrath, 88, as she tried to protect her husband in Stapleford, Nottinghamshire, in 2009.
Ms Connor said at the inquest in Nottingham: "I cannot say that any of the agencies involved in this inquest caused John's death.
"They did not wield the knife on that fateful day, nor did they have a metaphorical crystal ball, allowing them to know what would happen.
"What they did do, however, was allow a vulnerable and dangerous man to be left at large, and fail to prevent this horrible tragedy."
Mr McGrath had fought tirelessly to get the right help for his grandson, a paranoid schizophrenic. his daughter Ann Popow said.
Ms Popow said after the verdict: "It has been very frustrating and embarrassing at times having to listen to the feeble excuses as to why they didn't do more for William and in turn to prevent Dad's death."
Misconduct case
Failings identified in a report by the Independent Police Complaints Commission (IPCC) included police's failure to arrest Barnard in connection with an attempted armed robbery in May 2009, two months before he attacked his grandparents.
The report found there was a delay in officers investigating the case and no attempts to speak to Barnard after he was identified as a suspect.
Three officers had a case to answer for misconduct and Nottinghamshire Police said it had since issued them with management advice.
The force's Assistant Chief Constable Simon Torr apologised and said that, as a result, officers had undertaken mental health training.
Other measures included the introduction of street triage cars, staffed by police officers and mental health professionals, he said.
The inquest heard Barnard had stopped taking his anti-psychotic medication and the family said he should have been detained by mental health services much sooner.
He was due to meet with mental health workers the day of the attack.
'We apologise'
Gopi Krishnan, medical director for Nottinghamshire Healthcare NHS Trust, said changes had been made to "improve care and reduce risk".
"There were times when communication wasn't as good as it might have been; co-ordination wasn't as good as it might have been. Of course, we apologise for that," he said.
Barnard was committed to Rampton high security hospital indefinitely in June 2010.
He had admitted manslaughter on the grounds of diminished responsibility and pleaded guilty to a charge of wounding Mrs McGrath with intent.
The IPCC launched an independent investigation after the family complained about its managed investigation of the force, which the report said did not identify key lines of inquiry, including Barnard's mental health. It also failed to keep the family informed.
IPCC deputy chairman Sarah Green said the IPCC now no longer managed such investigations but carried them out itself.