Inspector backs Field Farm green belt housing plan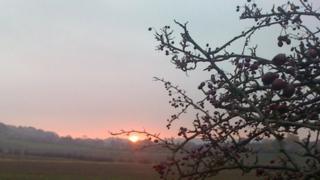 Plans for 30,000 new homes in the Nottingham area, including a controversial proposal to build hundreds on green-belt land, have been backed by a government inspector.
The core housing strategy for Nottingham, Gedling and Broxtowe calls for the housing to be built by 2028.
Broxtowe MP Anna Soubry, who opposed the 450 homes at Stapleford's Field Farm, said she was "disappointed".
The report also supports housing at Toton near the proposed HS2 station.
'Woeful' consultation
The Field Farm plan had already been approved by Broxtowe Borough Council despite local opposition for more than a decade.
Broxtowe councillor Steve Barber said: "We do have a chronic housing shortage in Broxtowe and greater Nottingham - many young people are not able to buy their own homes and are staying at home for far too long."
He said only 2% of Broxtowe's green belt would be built on with the remaining 98% being protected until 2028.
Ms Soubry said: "I am not at all surprised at the decision given the inspector had agreed to Broxtowe's housing target half way through the public inquiry.
"But the fight to protect our green belt is by no means over."
Planning inspector Jill Kingaby said the plan provides "an appropriate basis for the planning of the area over the next 14 years and is sound."
Ms Soubry added: "I will continue to argue that the core strategy is flawed. The housing figures are too high and there has been a woeful lack of public consultation."
In Gedling borough, the areas earmarked for housing include Gedling Colliery, Teal Close, north of Papplewick Lane and Top Wighay Farm along with Bestwood Village, Calverton and Ravenshead.