Cotgrave free school plan prompts concerns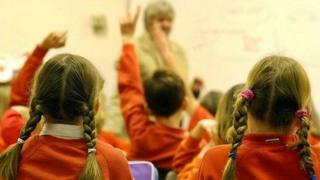 Plans for a Nottinghamshire town's first secondary school have been criticised for a lack of transparency.
Cotgrave Labour town councillor Drew Wilkie said the trust behind the free school plan is not providing enough information about how it will be run.
The Flying High Trust responded that it would work closely with the authorities but its plans were at an early stage.
Calls for a secondary school in Cotgrave have grown as 450 homes are built on its former colliery site.
The trust, which already sponsors the town's Candleby Lane Primary, has said it hopes to submit a bid to the Department for Education in October for a new free school in September 2016.
Children who leave Cotgrave's two primary schools currently have to be taken by bus to neighbouring areas.
---
Free Schools
•There are more than 170 of them
•Set up by parents, teachers and academy chains
•They have priority for funds over other new schools
•Average capital cost is £6.6m
•They receive funds directly from the Department for Education
•Will be inspected within two years of opening
---
Mr Wilkie believes concerns about how the school will be run and how many spaces it will offer need to be answered.
"There has been no consultation whatsoever, just a lot of rumours flying about," he said.
"At the moment the Flying High Trust appears to be primarily for primary school pupils.
"If they are going to expand their portfolio, then people need to know how they are going to do it and how it is going to work."
Paul Goodman, Flying High Trust's resource and teaching school director, insisted they were taking the plans step by step.
"The only reason we are doing this is because parents asked for it. What we are trying to do it meet their demands."
He continued: "We don't pretend to believe that, as a primary school, we have all the answers to creating a secondary school.
"But what we want to do is combine the best of primary practice with the best of secondary expertise."