George Africanus: Blue plaque will honour black entrepreneur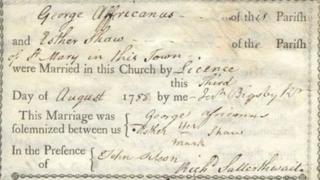 An 18th Century slave who became one of the UK's first black entrepreneurs is being commemorated with a blue plaque.
The plaque honouring George Africanus, who died in 1834, will be erected on the Major Oak pub on Victoria Street in Nottingham, where he lived with his wife.
The Belong Nottingham group has campaigned to have the plaque erected.
Africanus, who was born in Sierra Leone in 1763, formed his own company called the Africanus Register of Servants.
'Virtually a millionaire'
Norma Gregory, a spokeswoman for Belong Nottingham, a Nottingham charity which supports multiculturalism, said: "We hope the plaque will highlight the achievements of this man - who did incredibly well in his time.
Nottingham's plaque highlights
King Charles I: No less than three commemorate the raising of his standard at Nottingham Castle on 22 August 1642, which started the English Civil War
Hot air: Nottingham's first successful balloon flight on 1 November 1813 from what is now the Fellows Morton and Clayton pub, Canal Street
Punch: William Abednego Thompson - famous bare knuckle fighter "Bendigo" - was born near 19 Trinity Walk in 1811
Marshal Tallard: The man Marlborough beat and captured at the Battle of Blenheim. Kept at Newdigate House, Castle Gate, 1705-1711
"He bought property in Nottingham and was virtually a millionaire in his day," she added.
The Nottingham group has been helped in its campaign by London charity Nubian Jak Community Trust, which has already put up blue plaques for reggae singer Bob Marley, Jamaican politician Marcus Garvey and American civil rights campaigner Malcolm X.
"He (Africanus) was a formidable figure who founded what was probably the first employment agency in Nottingham," a Nubian Jak spokesman said.
After an apprenticeship as a brass founder in Wolverhampton, Africanus moved to Nottingham where he gained his freedom in 1829.
The plaque will be unveiled on 9 October at the former home of Africanus on Victoria Street, which was previously known as Chandler's Lane.
Documents show he married in Nottingham in 1788 and was buried in 1834.
His grave, in the churchyard of St Mary's in Nottingham's Lace Market, was uncovered in 2003 and a plaque was later unveiled at the churchyard.
Belong Nottingham also plans to publish an Africanus calendar and is producing a book about him for schools which will be piloted this autumn.