Sherwood Forest fund to help nightjar numbers increase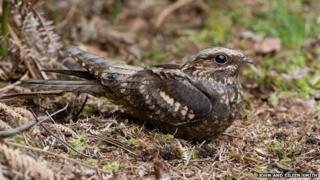 A fund has been set up to restore areas of Sherwood Forest to help boost nightjar numbers that have declined.
Nottinghamshire Wildlife Trust hopes to raise £1m to rebuild about 500 hectares (1,235 acres) of heath land to help the threatened birds.
It said despite it being a good year for nightjars, with about 70 pairs breeding in the area, their habitats still needed to be improved.
The trust has also introduced a tagging programme to monitor the birds.
Spokesman Erin McDaid said the fund would be used for partnership projects, education in schools and work in conservation areas.
He said: "It gives hope for an increase in nightjar numbers."
The wildlife trust is working with the Birklands Ringing Group and the University of Nottingham to monitor the birds, both in the forest and in Africa where they spend the winter.
Andrew Lowe, who heads the ringing group, said the work to restore the heath land was very important.
"People often think about saving the rain forests and forget there are many rare species and habitats on our doorstep," he said.
He said by tagging the birds, which eat moths, beetles and crane flies, more could be learnt about how they used the forest, and how far they flew in search of food.